School Board Secretaries Forum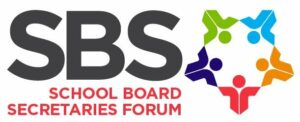 From staying on top of changes in school law to keeping up with regulations and mandates, school board secretaries have taken on an ever-increasing responsibility. The PSBA School Board Secretaries Forum provides networking and professional development opportunities to help you do your job more effectively and efficiently.
The Forum provides education, resources and advocacy specific to your role as a school board secretary. Through the use of technology and communication resources, PSBA provides you with the tools and information to meet today's challenges and responsibilities.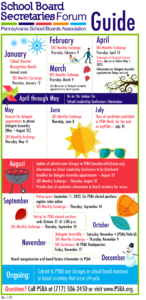 Benefits of participation in the PSBA School Board Secretaries Forum:
Access to PSBA online training resources, including specific trainings for school board secretaries
Quarterly e-newsletter with school board secretary news and updates
PSBA legislative resources and advocacy
Annual invitation to PSBA Sectional Meetings
Membership
The purpose of this forum is to provide a medium for school board secretaries in a Pennsylvania public school district, intermediate unit, or career and technical school to exchange information and views concerning the administration of the public schools of the commonwealth. Membership includes school board secretaries, assistant board secretaries, recording secretaries, acting board recording secretaries and any person designated by the local board or school district.
Membership in the School Board Secretaries Forum is included in PSBA member dues.
Virtual networking and discussion
Join other school board secretaries (SBS) for cross-district networking and discussion on educational hot topics and policy updates related to your role. SBS Monthly Exchanges are complimentary for members. Sessions will take place on Zoom at 10:00-11:00 a.m. on the second Thursday of each month:
May 11
June 8
September 14
A one-time registration, which is valid for all scheduled sessions listed above, is required to attend. Register online now to join in!
School Board Secretaries Forum Steering Committee
Members of the School Board Secretaries Forum Steering Committee shall be responsible for forum affairs during the interim of the annual meetings. It shall be the duty of the Steering Committee to carry out the objectives and purposes of the department.
Each Steering Committee member is expected to contribute his or her knowledge and expertise in the development and presentation of projects throughout the year. Attendance and participation at the annual PSBA School Board Secretaries Conference is most important.
2023 Committee Members
For more information related to the School Board Secretaries Forum, contact Becky Dussinger at (717) 506-2450 ext. 3271, Jessica Portz at (717) 506-2450 ext. 3428, or email memberexperience@psba.org.